In March,2007, Dung Oanh gemstone painting company, the precursor of Dung Tan Co.Ltd was founded at the address 2A hamlet, Pho Co ward, Song Cong town ( now is Son Cong city) , Thai Nguyen province.
With motto "The quality affirms the brand", the gemstone paintings of Dung Oanh occupied the belief of customers and have gradually occupied market in Thai Nguyen province, all over the country and some market in the Southeast Asia and the Russian Federation.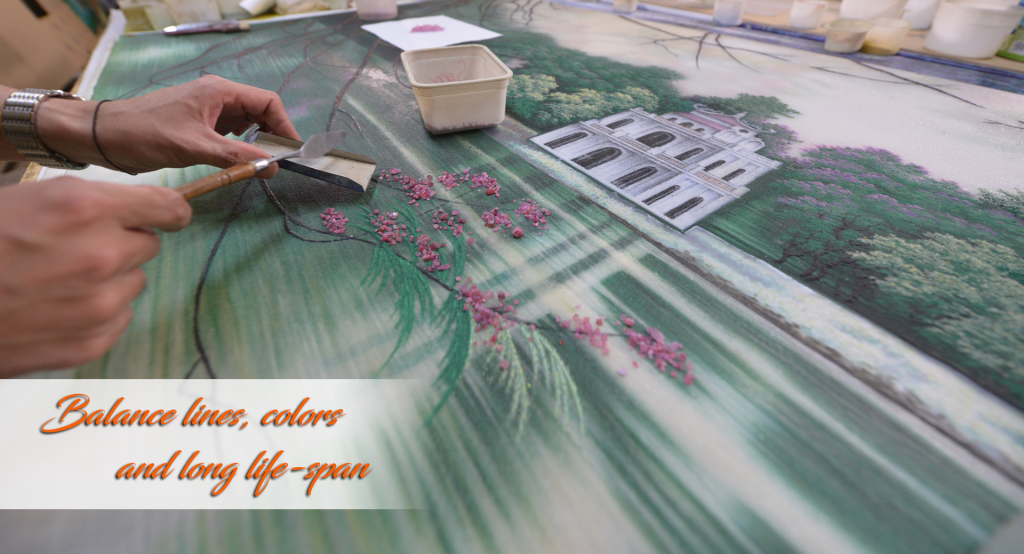 When the demand was increasing significantly, requirement expanded its capacity, Dung Tan Co.Ltd was founded on August 28th, 2008.
Dung Tan gemstone paintings are made of 100% precious and natural stones with completely natural color combined with other high-grade materials like mica 5 mm, glass 5mm, wooden frame Gu Dong Ki by talented artists; Therefore, the paintings are harmonious about line, color and have a durability over the time.
Coming to Dung Tan, customers will get chances to observe the process of making gemstone painting at manufacturing department, located in campus of commercial center.
This is handicraft process, from processing stone to completing paintings. Stones are ground in hand by using pestle and steel mortar, then soaked and washed, dried and sifted, classified size, there are even stones which need to be classified according to intensity of color. Essential materials which are made from this initial processing step can be used to make paintings. Depending on the technical skill and strong point of each artist that they will create different kinds of paintings. Finally, paintings are washed with soap, dried and put in frames. Customers are definitely able to observe this process and feel the value of each painting.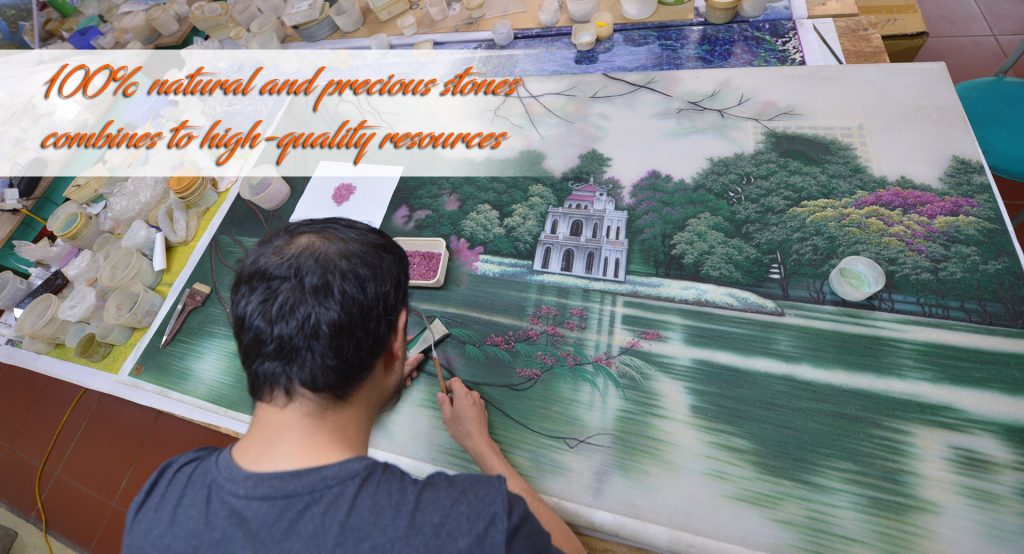 With positive points, Dung Tan is proud of asserting the brand on the market. To respond belief of customers, Dung Tan also expose considerate customer care policies, that are warranty policies of the company.
With any gemstone paintings are labeled the brand logo of the company, registered at" National office of Intellectual property Vietnam". Logo permit customers to identify which one is genuine and which one is fake, and it is also warranty basis for company to process product warranty the painting. When products are meet with problems such as being shed, blurred glass, … its will be warranted free of charges.
Dung Tan will not disappoint customers about model, quality and price when each painting are made by love and talent of artists and by exertion of the company.