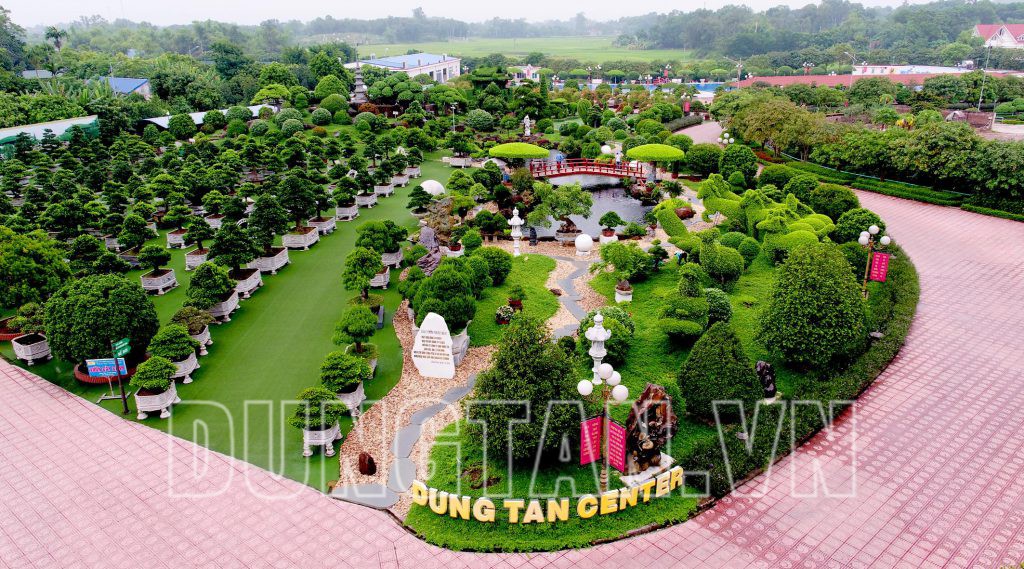 Founded on March 27th, 2003, the company was named Dung-Oanh Gemstone-Painting Company, motto "The quality affirms the brand" the gemstone paintings of Dung Oanh occupied the belief of customers and have gradually occupied market in Thai Nguyen province, all over the country and some market in Southwest Asia and the Russian Federation.
When the demand was increasing significantly, requirement expands, its capacity, Dung Tan Co.Ltd was founded on August 28th, 2008 at the address 2A hamlet, Pho Co ward, Song-Cong town (Now is Son-Cong city), Thai Nguyen province and popularity of Dung Tan Gemstone Paintings have been appreciated by both at home and abroad partners.
At that times, Dung Tan Company Limited expanded on many gemstone products, including:
Produce and trading gemstone paintings
Manipulate natural gemstones accessories
Trade ornamental stone, feng shui stone, energy stone
With his passion for bonsai trees and other ornamental creatures, on October 4th, 2011, Mr. Le Van Dung – The director of Dung Tan company limited determined to establish Dung Tan Gemstone – Gemstone Painting – Bonsai Trees – Restaurant Commercial Center (Dung Tan Commercial and Tourism Center) at Km no.20, 3 highway, Khuynh Thach group, Cai Dan ward, Song Cong town, Thai Nguyen province and received the attention of local people and travelers.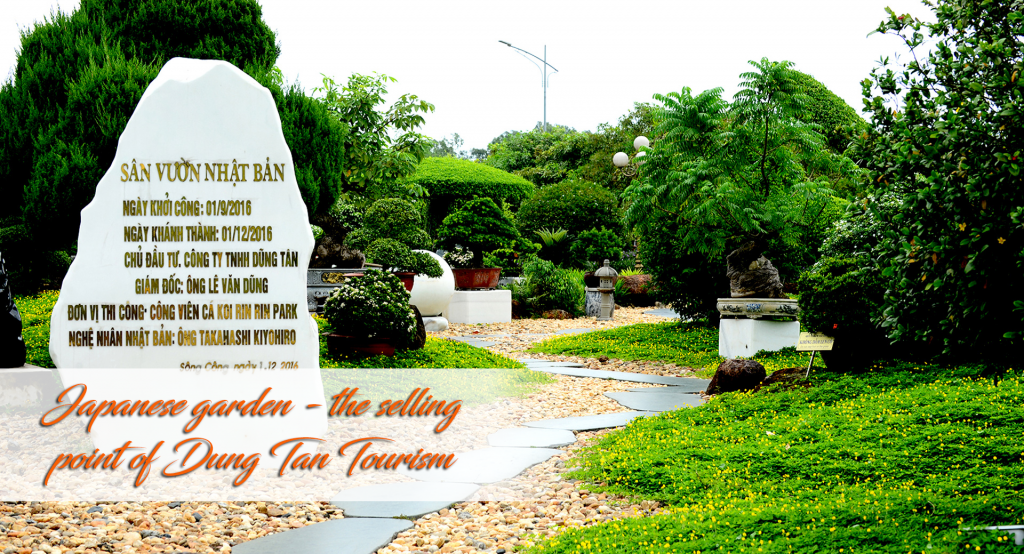 When Dung Tan Commercial and Tourism Center was founded, it business fields was extended and progressed, including:
Trade bonsai trees, ornamental bird and fish
Restaurant service
With an area of over 60.000 square meters, Dung Tan Commercial and Tourism Center is a mini-ecological area with gorgeous nature landscape and many artistic works.
Coming to Dung Tan Commercial and Tourism Center, guests will contemplate hundreds of precious, rare and unique bonsai trees. From traditional bonsai like Ficus Benjamina, Baringtonia Acutangula, Podocarpus macrophyllus, … to fruit-trees like Carambola, Tamarind, Guava, Mango, … which are created, cared and trimmed in a variety of shape along with many kinds of ornamental birds and ornamental aquariums to create an exceptional trees- birds- fishes community with high economic value.
Bonsai of Dung Tan are also diversified dimension, from small size bonsai which are appropriate for small space gardens to big size bonsai and shade are suitable for spacious gardens or offices to satisfy several demand of customers.
Dung Tan Commercial and Tourism Center include a commercial preimses with first floor exhibit products of natural stone, Feng Shui stone and energy stone and a kiosk trading natural gemstones jewelries like Ruby, Sapphire, Quartz other types of gems.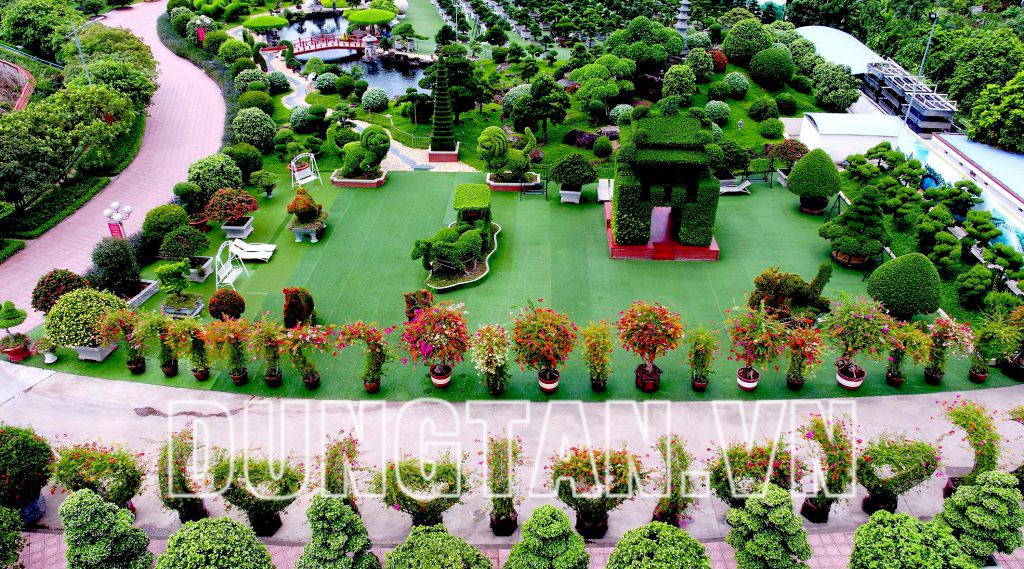 Dung Tan commercial and tourism center is also a place to consult and manipulate jewelries attached many kinds of natural gemstones, Dung Tan gemstone jewelries are made of 100 percent natural gemstones, they are diversified in colors, shapes, dimensions and values, Dung Tan jewelry kiosk is a place where customers are welcome to contemplate, choose and buy various gemstone jewelries for them, their relatives and these gemstone jewelries are high-class, special gifts.
The second floor of this premise is Dung Tan restaurant, an ideal site for customers. Luxurious and courteous dining rooms suitable for conferences, seminars and family meetings.
Restaurant is divided in 2 areas. A hall maximum capacity 100 guest and VIP dining-room area include 6 VIP rooms, maximum capacity for 20 guests/1 room. The VIP rooms are equipped with Taiwan high-grade furniture and opulent gemstone paintings which are appropriate for reception meetings or family and friend parties.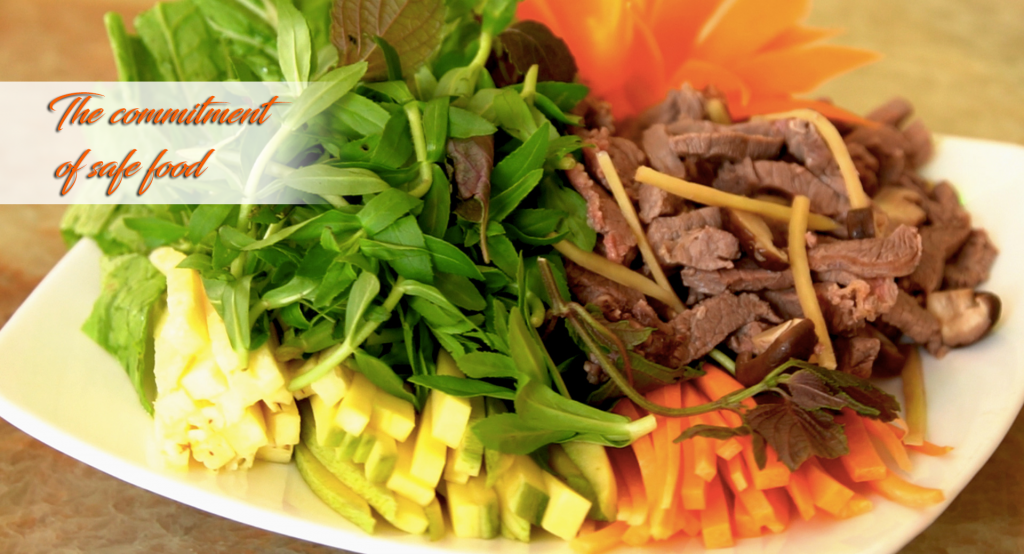 The restaurant is divided into two areas: large meeting hall and VIP dining room area. The meeting hall can hold about 100 guests, equipped with festival, to organize seminars, conferences and meetings.
The gemstone showroom is located in a campus behind the company, to display natural gemstone paintings which are various about painting form, dimension and value. From modern landscape painting, antique painting, charming natural scenery painting, Chinese four seasons painting, calligraphy… to portrait, wedding picture, family picture.
It is interesting when coming to Dung Tan commercial and tourism center, tourists will have chances to both enjoy coffee and other special drinks and contemplate "The longest artistic stones painting in Vietnam", length over 250 meters and area over 620 square meter surround Bar-Coffee shop and company 's campus. This painting was completely made of natural stones like sandstone, granite, marble …, to describe lively landscape and activities at Vietnam countryside.
Bar-Coffee shop was built in the way of well-aired space. Tables, chairs, ornamental stones and bonsai plants in this shop were arranged alternatively to create open space to make tourists feel more comfortable.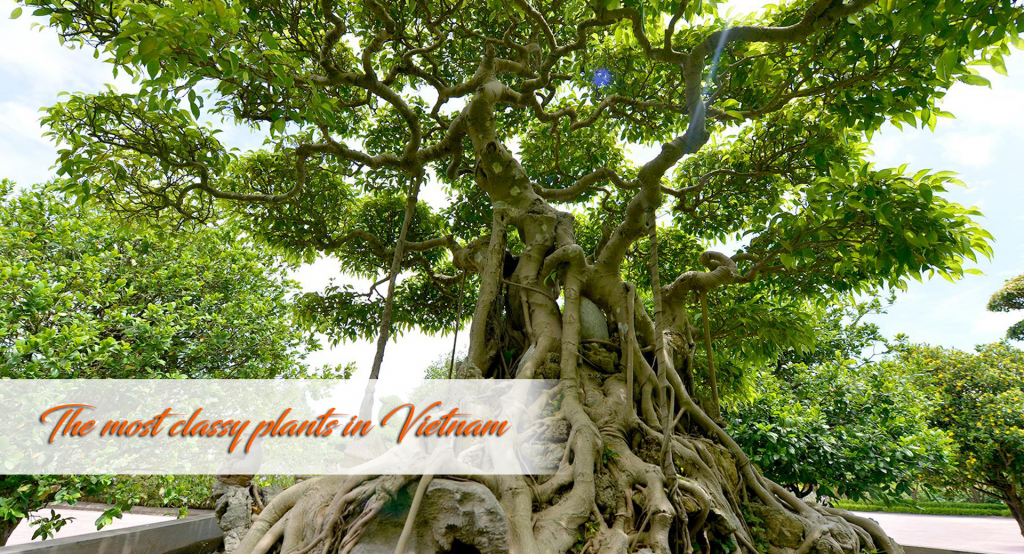 In addition, customers can contemplate "The biggest monolithic gem painting in Asia" set record October 25th, 2013, "Cuu long tranh chau" painting was made of Pakistan monolithic gem by Taiwan talented artisans and auctioned at gemstone trade fair at Beijing – China on April/2010. This fair also displayed "The painting of Da Lat with the most gemstones in Vietnam" – set record in Vietnam on October 27th, 2012, appended a thousand of natural ruby with other many natural gemstones and semiprecious stones.
The center owns a ton of attractive products with many records and other appealing service, Dung Tan gemstone painting- restaurant general commercial center definitely become an ideal site for tourists.